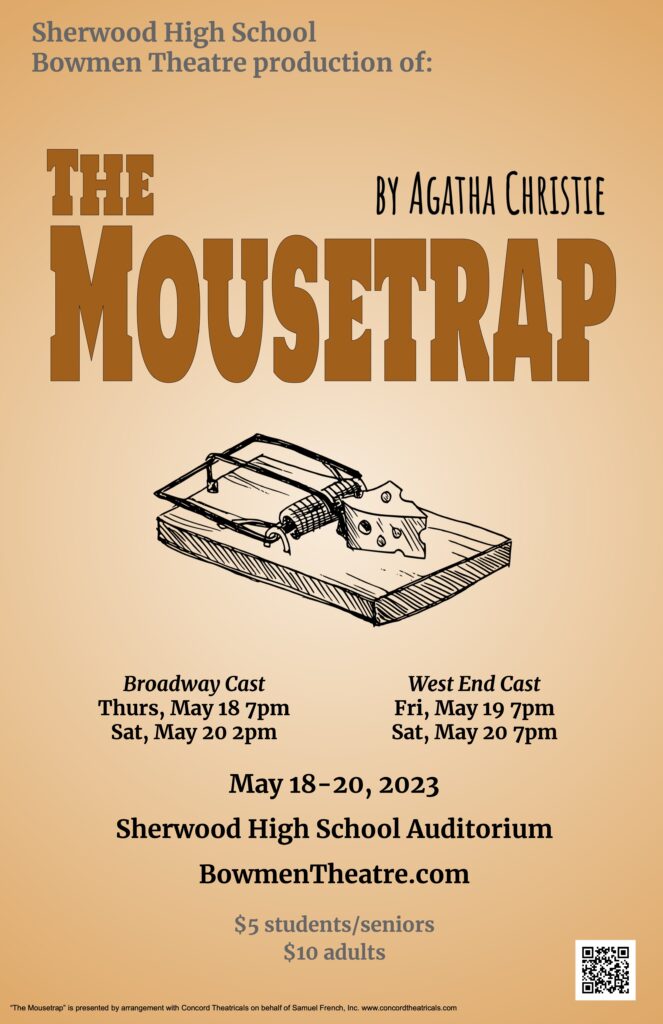 Cast of Characters
Broadway Cast
MOLLIE RALSTON – Madeline Green
GILES RALSTON – Camden Daiker
CHRISTOPHER WREN – Emily Switzer
MRS BOYLE – Ellise Newton
MAJOR METCALF – Jackson Mershon
MISS CASEWELL – Amanda Starling
MR PARAVICINI – Isabelle Moon
DETECTIVE SERGEANT TROTTER –
Edwin Johnson
West End Cast
MOLLIE RALSTON – Charlotte Swartout
GILES RALSTON – Benny Matlock
CHRISTOPHER WREN – Cory McNutt
MRS BOYLE – Ciara Schweigert
MAJOR METCALF – Emery Boisvert
MISS CASEWELL – Lily Knepper
MR PARAVICINI – Samantha Demcak
DETECTIVE SERGEANT TROTTER –
Delaney Hagfeldt
Radio Announcer – Aiden Wichman
Scene List and Synopsis
ACT ONE
Scene 1: The Great Hall at Monkswell Manor. Late afternoon.
Scene 2: The same. The following day after lunch.
ACT TWO
The same. Ten minutes later.
A timeless tale of "whodunit," Agatha Christie's The Mousetrap strands seven strangers at Monkswell Manor during a blizzard. But a police sergeant unexpectedly arrives, worried that a murderer-at-large is among the guests of the Manor. Before he can investigate, one of the guests is killed, starting an investigation into the lives and histories of everyone there. One of them is the killer, and another one of them may be next. Will the police be able to solve the case before another "mouse" falls?
The world's longest continuously running play for over 70 years, The Mousetrap continues to delight and intrigue mystery lovers of all ages.
To preserve the mystery and continued enjoyment of this work, please do not share the ending of this play.
Production Team
Director – Joe Dalton
Assistant Director – Shannon Miller
Technical Director – Kristen Hartman
Stage Manager – Kulia McLaughlin
Assistant Stage Manger – Caleb Chan
Tech Crew –
Set Construction – Robert Eli Taylor
Set Painting & Prop Assembly – Tech Crew
Costuming – Michelle Crosby and team
Glam – Pamela Whitchurch and team
House Manager, Booster President – Ambria Newton
Box Office – Marcy Nielsen, Lisa Swartout
Photography – Jeff Peters
Videography – Hayden Konstantin
Special thanks to the Performing Arts Boosters and Families! And thank you to Adam Mitchell, Katie Voss, and SHS Administration and district office! We appreciate you!