Disney's Beauty & the Beast musical stage production tells the classic story of Belle, a young woman in a provincial town, and the Beast, who is really a young prince trapped under the spell of an enchantress. If the Beast can learn to love and be loved, the curse will end and he will be transformed into his former self. But time is running out. If the Beast does not learn his lesson soon, he and his household will be doomed for all eternity.
Performances at Sherwood High School auditorium, April 27-29 at 7pm. Tickets online and at the door.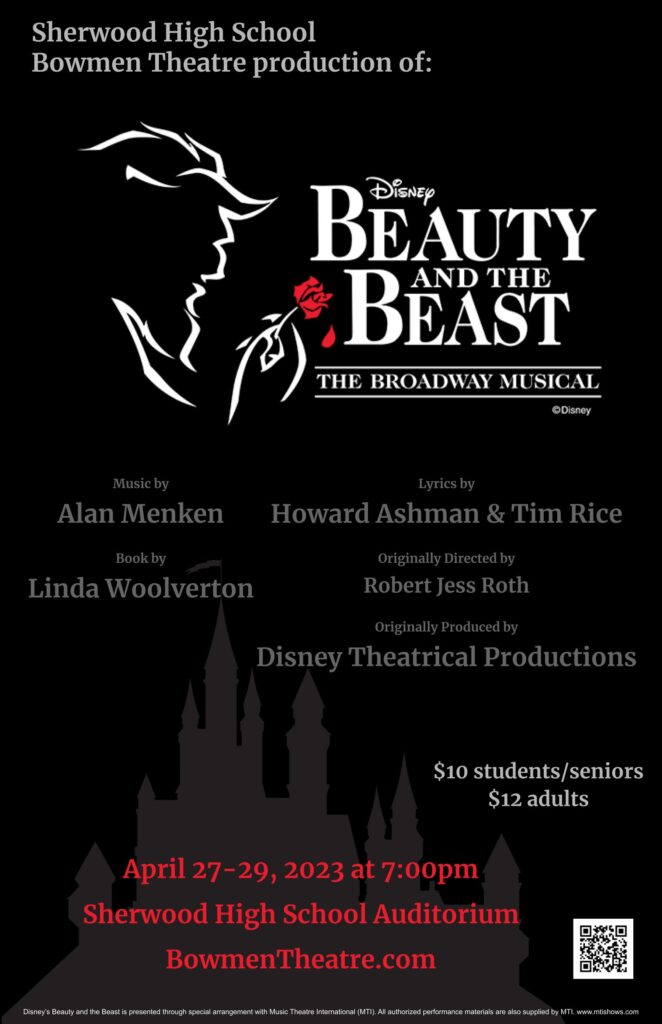 Musical Numbers
Setting: A charming, provincial French village, surrounding forest and nearby castle
Act 1:
"Prologue" – Narrator, Enchantress, Young Prince, Beast
"Belle" – Belle, Gaston, Lefou, Villagers
"No Matter What" – Maurice, Belle
"Maurice Travels" – Maurice
"Me" – Gaston, Belle
"Belle Reprise" – Belle
"Home" – Belle
"Home Tag" – Mrs Potts, Madame de la Grande Bouche
"Gaston" – Lefou, Gaston, Les Filles, Villagers
"Gaston Reprise" – Gaston, Lefou
"How Long Must This Go On" – Beast
"Be Our Guest" – Lumiere, Chip, Mrs Potts, Castle Staff
"If I Can't Love Her" – Beast
Act 2:
"Something There" – Belle, Beast, Lumiere, Cogsworth, Mrs Potts, Chip
"Human Again" – Lumiere, Chip, Mrs Potts, Madame de la Grande Bouche, Babette, Cogsworth, Castle Staff
"Beauty and the Beast" – Mrs Potts
"If I Can't Love Her Reprise" – Beast
"A Change in Me" – Belle
"The Mob Song" – Gaston, Monsieur D'Arque, Lefou, Villagers
"Home Reprise" – Belle, Beast
"Finale Ultimo" – Company

Cast List
Belle – Madeline Green
Maurice – Morgan Matlock
Gaston – Derec Gregory
Lefou – Alice Giles
Narrator – Parker Carleton
Enchantress – Amanda Starling
Monsieur D'Arque – Leo Grosso
Beast – Benny Matlock
Cogsworth – Edwin Johnson
Lumiere – Camden Daiker
Mrs Potts – Kiara Valladares
Chip – Macy NewMyer
Babette – Delaney Hagfeldt
Madame de la Grande Bouche – Maija Casey
Young Prince – Ben Miller
Dance Team – Adalia Henderson, AJ Jernstedt, Charlotte Swartout, Delaney Nielsen, Emma Young, Kylie Johnson, Leo Grosso, Mia Altamirano, Parker Carleton, Sabrina Urban, Samantha Russell, Sophie NewMyer, Taylor Dearinger, Trevor Tsui
Les Filles – Megan Ramos, Sophie Fletcher, Finley Moller, Kaitlin Ard, Mikayla Weidman, Madison Black
Wolves – Ben Miller, Dani Kirby, Jadyn Cochran, Jenessa Rose, Kyle Mershon, Lillian Renard, Lilly Hildreth, Seth Anderson
Villagers & Castle Staff – Abigail Bishop, Adalia Henderson, AJ Jernstedt, Amanda Starling, Amarys Martinez, Ben Miller, Caden Cole (Shepherd, Crony), Charlotte Swartout (Candlemaker), Ciara Schweigert (Laundry Lady), Clara Mellinger (Sausage Curls Girl), Dani Kirby, Delaney Nielsen, Elias Selzer (Crony), Ellise Newton, Ember Duncantell, Emma Young, Finley Moller, Gabby Tegtmeyer, Grant Aanderud, Hallie Smith, Izzy Garland, Jadyn Cochran (Shopper), Jenessa Rose, Jenna Bishop, Kaitlin Ard, Kyle Mershon (Baker), Kylie Davenport, Kylie Johnson, Leo Grosso, Lillian Renard (Female Villager), Lilly Hildreth, Lily Knepper, Madison Black (Marie), Megan Ramos, Mia Altamirano, Mikayla Weidman (Hatseller), Nathan Sax, Parker Carleton (Bookseller), River Turner, Rory Kerekes, Sabrina Urban, Salem Yelton (Gargoyle), Samantha Demcak (Milkmaid), Samantha Russell, Seth Anderson, Sophia Steiner, Sophie Fletcher, Sophie NewMyer (Flower Seller), Taylor Dearinger, Trevor Tsui (Tavern Master), Zaid Tareq (Crony)
Understudies – Amanda Starling (Mrs Potts), Ellise Newton (Belle), Grant Aanderud (Cogsworth), Izzy Garland (Madame de la Grande Bouche), Lily Knepper (Lefou), Megan Ramos (Babette), Nathan Sax (Beast, Lumiere, Gaston, Maurice), Sophie Fletcher (Chip)
Orchestra
Orchestra Conductor – Mason Hartman
Violin 1 – Katie Voss *
Violin 1 – Isabella Gaba
Violin 2 – Chloe Harty
Cello (euphonium) – Claire Worthy
Bass – Jackson Penberthy
Reed 1 (flute/piccolo) – Emily Wen
Reed 2 (oboe/eng. hrn) – Jessica Homer
Reed 3 (bass clar/clarinet) – Connor Vandever
Reed 3 (flute) – Kelsey Harty *
Horn 1 – Adam Fusco
Horn 2 – Jackson Porter
Horn 3 – Karter Moon
Trumpet 1 – Andrew Rackliffe
Trumpet 2 – Eli Quirie
Trombone – Judah Schwanz
Tuba – Bradyn Kostel
Drums – Jackson Schott *
Percussion – Kaisa Amer
Keyboard 1 – Hannah Eulberg *
Keyboard 2 (bassoon) – Jessica Brannan
Harp (synth) – Alicia Moore *
*Adult Mentor Musicians
Production Team
Director – Robyn Folsom
Assistant Director/Choreographer – Tara Porter
Assistant Director/Fight Choreographer – Kristen Hartman
Music Director – Kathy Shuckerow
Assistant Vocal Director – Aimee Altamirano
Technical Director – Kristen Hartman
Stage Manager – Emery Boisvert
Tech Crew – Ana Alston, Angelica Lopez, Bee Watson, Briella Davis, Caleb Chan, Claire Baldridge, Cooper Schweitzer, Cory McNutt, Dalia Haner, Emily Switzer, Gabriela Rojas, Grace Hoffman, Jack Fairman, Julia Wallace, Kulia McLaughlin, Lauren Branine, Odie Wiebe, Shelby Ogden, Soren Svenson
Set Construction – Robert Eli Taylor, Madison Taylor
Painting and prop assembly – Kulia McLaughlin, Cory McNutt, Caleb Chan, Lauren Branine, Grace Hoffman, Ana Alston, Jack Fairman, Gabriela Rojas, Emery Boisvert
Digital Projections – TheatreAve.com
Head of Costuming – Michelle Crosby
Costuming Team – Kimberly Roberts, Aimee Daiker, Kim Fletcher, Grace Daiker, Shannon Miller, Tabatha Copley
Head of Glam (Hair & Makeup) – Pamela Whitchurch
Glam Team – Rana Kaddumi, Risa Hetrick, Carol-Jean Pemberton, Lance Toddy, Puck Toddy, Jenny Schilden, Greta Schilden, Naomy Olivas, Reema Kaddumi
Photography: Jeff Peters, Giffy Pix&Flix
Videography: Hayden Konstantin
House Manager, Booster President: Ambria Newton
Box Office: Marcy Nielsen, Lisa Swartout
Special thanks to the Performing Arts Boosters and Families! Thank you to Izzy Garland for a magnificent invention. Thank you to Alexa Cruz Abarca & Jandika Borden for amazing, artistic antlers! Thank you to Vivian Wymore for a satchel to hold things. Thank you to Tracey Weidman and Trina Bishop for baking so many loaves of bread. Thank you to Shannon Miller for acting coaching. Thank you Junita Kauble,  Nicole Duncantell, Monica Kauble, and Kim Aanderud for costuming assistance. Thank you Mason Hartman for help with the sets. Thank you Chanda Hall for visiting us with your acting insights. Thank you Newberg High School, Robin Hood Festival, and Sherwood Foundation for the Arts. And thank you to Adam Mitchell, Katie Voss, and SHS Administration and district office! We appreciate you!