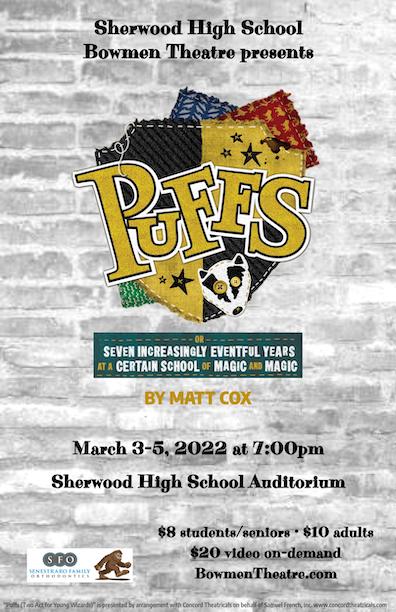 For seven years a certain boy wizard went to a certain Wizard School and conquered evil. This, however, is not his story. This is the story of the Puffs…who just happened to be there, too. A tale for anyone who has never been destined to save the world. Join our Sherwood High School students as they share the life and times of the Puffs during their seven year stint at a certain magic school March 3-5 at 7 PM in the Sherwood High School Auditorium. Rated PG.
Scene List
Prologue
⟿ YEAR 1 ⬳
Welcome to the Puffs
Studies
The Feast
Back in the Common Room
A Trio is Born
Wayne and Cedric
The End of the Year
⟿ YEAR 2 ⬳
Year Two
Dueling Club and Harry Wants to Kill Everyone
More Terror in the Common Room
The Heir of Snakes
A Great Hall Again/End of Year Again
Letters
⟿ YEAR 3 ⬳
Year Three
Electives
A Great Hall Slumber Party
Field Trip
Letters, Again
⟿ YEAR 4 ⬳
Goblets. Fires.
Not Forgivable Curses
Days Before the First Task
The First Task
Dates for the Ball
A Bathroom
The Yule Tide Ball
The Second Task and the Subtleties of Lake Watching
Wayne and Cedric
The Third Task
⟿ INTERMISSION ⬳
Letters Again
⟿ YEAR 5 ⬳
Welcome Back
Hopkins, Potter, and Emotions
The Rest of Year Five
The Dark Lord
⟿ YEAR 6 ⬳
Snogging 101
Later, in the Hallway
Perks of Love
Mummy
End of Year Six Where Nothing Major Happens
A Funeral and Instant Messaging
⟿ YEAR 7 ⬳
The End Begins
A Great Hall Again
The Battle
A Very White Room
Nineteen Years Blah, Blah. An Epilogue.
Please no video or photography during the performance.
CAST (in order of appearance)
Laura Johnson – Narrator
Dallin Baggaley – Very Tall Man, Ernie Mac
Clover McKenzie – First Headmaster, Sorting Hat, Prof McG, Prof Sproutty, Prof Lanny, Runes Teach, Ms Babble, Death Buddy
Kristen Hornibrook – Potions Teacher, Mirror Reflection, Ric Gryff, Zach Smith, Real Mr Moody, Bathroom Cast
Kyle Mershon – Uncle Dave, Fat Friar, Clumsy Longbottom, Viktor, DJ, Death Buddy
Michael Mallick – Wayne Hopkins
Makenzie Leonard – Seamus Finnigan, Ghost History Teach, Prof Locky, Rowena, Rita Scooter, Dragon, Bathroom Cast, Death Buddy
Mekayla Freeman – Anthony Goldstein, Ginny, Frenchy, Death Buddy
Ellise Newton – Hermeoone, Colin, Second Headmaster, Mr Bagman, Myrtle, Death Buddy
Emma LaBounty – Goyle, MIrror Reflection, Mr Nick, Security Guard, Hermeoone #3, Helga, Bathroom Cast, Death Buddy
Camden Daiker – Harry, Hermeoone #2
Amanda Starling – Leanne
Kori McNutt – J Finch Fletchley
Allie Edinger – Susie Bones, Scorpius Malfoy
Makynlee Sitton – Sally Perks, Blondo Malfoy, Bippy Elf
Jenny Kroon – Hannah, Xavia Jones
Leo Boisvert – Oliver Rivers
Claire Shipman – Megan Jones
Derec Gregory – Cedric, Sports Announcer, Mr Voldy
Brooke Heimark – Prof Turban, Mirror Reflection, Snake, Sal, Bathroom Cast, Death Buddy
PRODUCTION TEAM
Director – Joe Dalton
Technical Director – Kristen Hartman
Costuming – Michelle Crosby, Maddux Gillett
Set Construction – Robert Eli Taylor
Set Painting – Moriah Kearsley
Props – Heather Godsey, Emery Boisvert, Cast & Crew
Castle Portraits – Megan Radocha
3D Art – Elliana Overcamp
Glam – Pamela Whitchurch, Carol-Jean Pemberton, Rana Kaddumi, Risa Hetrick
Photography – Jeff Peters
Videography – Hayden Konstantin
Tech Crew – Letitia Adjei (Stage Manager), Amarys Martinez, Caleb Chan, Claire Worthy, Emery Boisvert, Emily Switzer, Emma Young, Kulia McLaughlin, Madison Black, Megan Aanderud, Nele Widmer, Martyna Fierek
House Manager – Jeff Shipman, Ambria Newton
Box Office – Marcy Nielsen
Producer – Robyn Folsom
Special thanks to the Performing Arts Boosters and Families! Thank you to Shannon Miller for your sewing wizardry. And thank you to Adam Mitchell, Katie Voss, and SHS Administration and District Office! We couldn't do this without you!