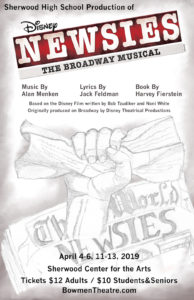 They delivered the papers, until they made the headlines… Newsies, the smash-hit, crowd-pleasing musical from Disney is now playing at Sherwood Center for the Arts. A two-time Tony Award®-winning show, Newsies has audiences and critics alike calling it "a musical worth singing about!" (The New York Times). Filled with one heart-pounding number after another, it's a high-energy explosion of song and dance you don't want to miss.
Based on true events, Newsies tells the captivating story of a band of underdogs who become unlikely heroes when they stand up to the most powerful men in New York. It's a rousing tale about fighting for what's right… and staying true to who you are.
Newsies was brought to the stage by an award-winning creative team. It features a score by Alan Menken (Beauty and the Beast) and Jack Feldman (The Lion King II: Simba's Pride) and a book by Harvey Fierstein (La Cage aux Folles).
Now is the time to seize the day with Newsies, playing April 4-6 and 11-13, 2019 at 7:00pm at the Sherwood Center for the Arts in Sherwood (NOT at the Sherwood High School PAC). Get your tickets before they sell out!
Run time for the show is 2 and a half hours including one intermission.