Welcome back! We have a great year ahead for 2023-2024! Bowmen Theatre would like to extend an invitation to students and parents to attend our fall informational meeting on Wednesday, September 6th at 7:00 pm in the auditorium. This meeting is open to actors, singers, dancers, tech, and the drama-curious. The directors and department heads will be present to present themselves, talk about the season, and answer questions you may have.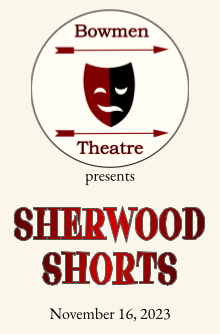 SHOWCASE: Sherwood Shorts
Directors Dalton, Hartman, Miller, Porter, Shuckerow
Participation forms & auditions due October 12
Workshops October 10-19: M-Th 3:30-5:30
Rehearsals by appointment Oct 30-Nov 9: M-Th 3:30-6pm
Tech Week & Performance Nov 13-Nov 16 5-10pm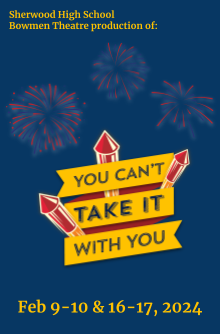 PLAY: You Can't Take It With You
Director Joe Dalton
Auditions Dec 8, Callbacks Dec 12
Read Through Dec 14 3:30-5:30pm
Rehearsals Jan 3-Feb 2: M-Th 3:30-5:30pm
Tech Week Feb 5-8, pickup Feb 15 5-10 pm
Performances Feb 9-10, 16-17 7:00 pm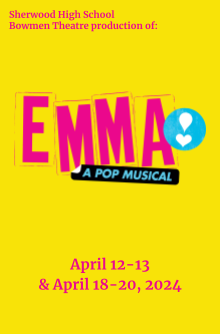 MUSICAL: Emma! A Pop Musical
Director Joe Dalton, Music Director Kathy Shuckerow
Auditions Jan 19, Callbacks Jan 22
Rehearsals Feb 20-Apr 4: M-Th 3:30-6:00pm
Tech Week Apr 8-11, pickup Apr 17 5-10 pm
Performances April 12-13, 18-20 7:00pm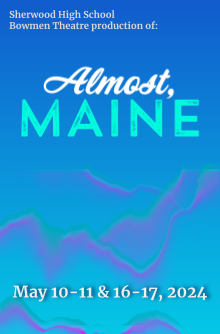 PLAY: Almost, Maine
Director Shannon Miller
Auditions March 4, 7:00-9:00 Callbacks March 11 3:30-5:30
Rehearsals March 12-April 4: Selected Nights 7-9pm
Rehearsals April 22-May 2: M-Th 3:30-5:30pm
Tech Week May 6-9, pickup May 15 5-10 pm
Performances May 10-11, 16-17 7:00pm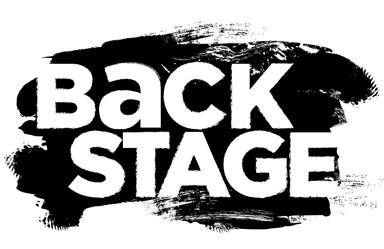 Tech
Technical Director Kristen Hartman
Sign up on the interest form at BowmenTheatre.com to find out about opportunities. Tech students will work behind the scenes for all of the stage shows and help support other events in the auditorium.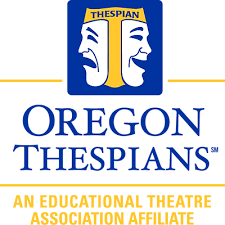 Thespian Troupe #11300
We are starting a Thespian Society Troupe this year, which will be open to students participating in theatre, both on and backstage, who accrue enough hours. It's a theatre honor society which will serve as a social and developmental club. We'll look to take at least one trip per trimester to a local theatre production. Meetings will take place before school at a time TBD.
Volunteers
Booster President Ambria Newton
Parents and families help out behind the scenes to make the arts happen! A parent meeting for each show will take place during the night of the first read through for each show. There is a sign-up genius for each event and/or contact us.
Use this link is to complete the volunteer background check.
Season Tickets
Season tickets will be available this year for all four stage shows! This is a fundraiser that allows patrons to reserve their tickets early and be listed as a patron in our programs. Details at BowmenTheatre.com/tickets