From the first notes to the final breath, West Side Story is one of the most memorable musicals and greatest love stories of all time.  Arthur Laurents' book remains as powerful, poignant and timely as ever. The score by Leonard Bernstein and Stephen Sondheim is widely regarded as one of the best ever written.  The world's greatest love story takes to the streets in this landmark Broadway musical that is one of the theatre's finest accomplishments.
This production is rated PG-13 due to violence and language.
Performances will be in the Performing Arts Center of Sherwood High School on April 12, 13, 14, 19, 20, and 21 at 7:00 pm.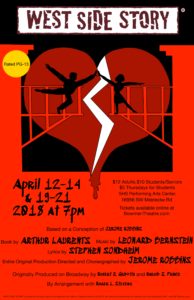 Purchase tickets online here. Adult tickets are $12 each, senior and student tickets are $10 each.  However, for the Thursday performances only, student tickets are only $5!